Side of Culture values and writes about contributors to cultural communities. Although toe shoes are not the first thing people think about when buying tickets to the ballet, they are one of the most essentials characteristics to a successful performance. As you well know, classical ballet is a cultural expression that is widely admired and respected. It is steeped in tradition, routine and repetition, music and artistry. From New York City to Sydney, the barre exercises and floor routines of a classical dancer are similar, if not the same, and the community is tied together by its classical repertoire, discipline and artistry. So something new is not your run of the mill occurrence in the traditional ballet world.
Born and bred into the ballet world and a former amateur dancer herself, Eliza Gaynor Minden dove even deeper into the traditional ballet world when she created a new toe shoe that now has gained wide appreciation and acceptance. The ballet world operates on such long-established practices that Gaynor Minden toe shoes are still considered revolutionary even though they were first introduced in the early 1990s.
No matter where the Gaynor Mindens are produced, in the factory in Lawrence Massachusetts or in Bosnia Herzegovina, the American-made, high-tech internal components are the same. These innovative shoes all have polymer shanks and boxes and Poron Performance cushioning rather than paper, glue and cardboard. These modern materials are skillfully worked by shoemakers using time honored techniques. And, the constant synthesis of dancer feedback suggests that Gaynor Minden is a place of unending innovation and non-stop creation.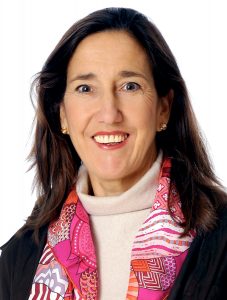 The company has been the subject of many programs and articles. The Discovery Channel, CBS's Evening News, PBS' Nightly Business Report, NPR, the BBC, The New Yorker, The Wall Street Journal, The Los Angeles Times, The Times of London, The Telegraph, Shape, Victoria, Glamour, Working Woman, Vogue and numerous others have featured Gaynor Minden explaining the enormous challenge of introducing innovation and change in an artform whose equipment and methods go back to the 1830s.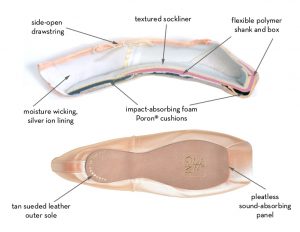 Today, Gaynor Minden has offices on three continents and ships to 85 countries and over 200 professional companies. The shoes are used at almost every major ballet company in the world, including American Ballet Theatre, England's Royal Ballet, The Paris Opera Ballet, The Bolshoi Ballet, The Mariinsky Ballet, The Royal Danish Ballet, The Dutch National Ballet, The San Francisco, Houston and the Boston Ballet. Fortunately, Eliza Gaynor Minden's tenacity and talent has been rewarded in the company's success.
By Victoria Larson, Editor, Side of Culture
VK Larson Communications