Jeanette May's Tech Time Capsule is at 42nd and 6th and worth the stop! MTA Art Underground
The MTA (Metropolitan Transit Authority) may be suffering steep declines in ridership and revenue but it is doing a lot of cleaning and boosting of community spirit with its art and installations in the subways. As you travel with the Metropolitan Transportation Authority network, you experience a first-rate art museum comprised of works created in mosaic, terra cotta, bronze, glass and mixed-media sculpture. Side of Culture featured Jeanette May's work and artistry last May and this year the MTA asked her to participate in their urban showcase in New York City.
According to the MTA's website, Jeanette May's still life photographs in Tech Time Capsule embrace the anxiety surrounding technological obsolescence. The images were created with common household items – from film cameras to flip phones – but arranged in a style referencing the wealth portrayed in 17th Century Dutch paintings, with a nod to contemporary advertising display photographs. The dramatic lighting and rich wall colors and textiles add to the artful compositions.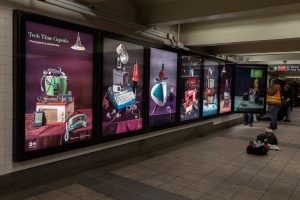 While enticing viewers towards recognizable objects, the photographs create a tension by bringing awareness to the fleeting nature of earthly pleasures and the newest gadget. "The more we yearn to keep current—the newest phone, computer, camera, audio system, espresso maker—the more we produce, consume, and discard", said May. Each still life includes five key technology categories: optics, audio, time, communication and light, in a range of time periods.
The items will be familiar to several generations of commuters passing through the Bryant Park subway station, evoking memories and wonder at how quickly technology is developing. The images also speak to the change in the neighborhood above, where movie theaters were once prevalent and office buildings housed giants of communications and clothing manufacturers. The immediate area is now also home to shared work spaces, technology, cable and internet-based businesses.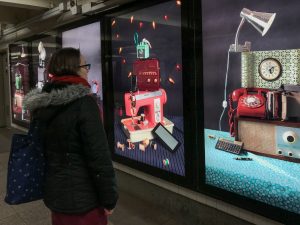 Jeanette May is a photo-based artist who uses a critical, sometimes playful, approach to investigate representation itself. Early training as a painter is evident in her carefully arranged compositions and rich color palette. She teaches at the International Center of Photography (ICP) in New York City and lives in Brooklyn. Her work is exhibited in galleries and museums internationally, and her photographs are available from Klompching Gallery, ClampArt, and Alter Gallery Studio. The exhibit was generously sponsored by Griffin Editions and Kodak Alaris.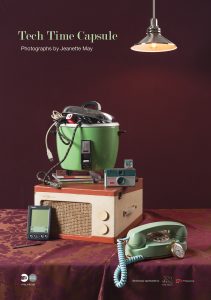 The MTA Arts & Design was created to oversee the selection of artists and installation of permanent artworks in subway and commuter rail stations. There are more than 300 works by world famous, mid-career and emerging artists. MTA Arts & Design has grown to encompass Music Under New York, Graphic Posters, Poetry in Motion, Digital Arts, the photographic Lightbox Project, special events and industrial design issues. The MTA Arts & Design strives to create meaningful connections among New York City's diverse sites, neighborhoods and people. http://web.mta.info/mta/aft/about/
By Victoria Larson, Editor, Side of Culture
VK Larson Communications