Founded 18 years ago at Grey Towers National Historic Site in Milford, Pennsylvania, Kindred Spirits Arts Program (KSAP) is a non-profit arts and cultural organization dedicated to bringing high quality diverse musical experiences to the local community. Only 1 ½ hours from New York City, Milford is actually closer to New York than to Philadelphia.
Kindred Spirits Arts Program was founded in the beautiful home of Gifford Pinchot, first Chief of the US Forest Service and Pennsylvania Governor for two terms. Side of Culture wrote about Grey Towers back in 2017. In 1963, Gifford and Cornelia's son Dr. Gifford Bryce Pinchot donated Grey Towers and 102 acres to the US Forest Service to carry forward the principles set forth by his father. Today the US Forest Service, with numerous partners, administers the site as an education, conference and leadership center. With Grey Towers National Historic Site as its original home, KSAP's concerts fit perfectly with the Pinchot family's dedication to conservation and support of the arts. Over the years KSAP has become a not for profit corporation, and has added venues in addition to Grey Towers, including several sites in downtown Milford and throughout the Upper Delaware Valley.
Kindred Spirits Arts Programs (KSAP) sees its goal in awakening, through music and art, a greater appreciation and sensitivity to the beauty and value of nature. That is a tall order for a nonprofit arts organization especially these days but they have been successfully presenting established and emerging artists in musical and other events in a variety of settings – often collaborative ventures with other arts and educational organizations. KSAP places special emphasis on bringing performances and master classes to children in the schools.
Ed Wetschler, a professional writer, a public relations volunteer for KSAP, local resident and a big fan, said "Over the years, Kindred Spirits Arts Programs has managed to enlist WQXR regulars and Grammy-recognized artists (in world music and other genres as well as classical music) including New York Polyphony, the Calmus Ensemble Leipzig, former Lincoln Center Artist-in-Residence David Amram, the Shirim Klezmer Orchestra, flamenco artist Juanito Pascual, WQXR's Bob Sherman with the Zodiac Trio, Khorikos, the Bacheler Consort, David Gonzalez and his Poetic License Latin Jazz Band, the Newman/Oltman Guitar Trio, and the Sybarite 5 Chamber Players. This is all to say that that if Yos weren't able to earn a living performing and teaching cello from China to the U.S. and from France to Israel, he could've been one helluva booking agent."
"Yos" is indeed a very special person. Yosif Feigelson, Founder, Executive & Artistic Director of KSAP is a very successful and internationally well-known concert cellist. This Latvian-born star still enjoys a solo career that has spanned over three decades. He has been compared to such cello greats as Mstislav Rostropovich (a former teacher of his) and Piatigorsky. Even though he performs at the very highest levels with the best orchestras and musicians in the world, Yosef Feigelson makes time to give back to his communities and share his talents.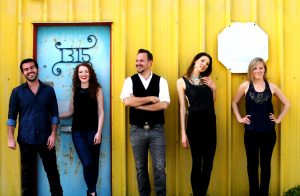 In addition to the extraordinary line-up of musicians and performers, Yosif Feigelson and his team at KSAP have enlisted the support of local donors and national arts organizations which is so important to long-term success and being able to weather storms like the Coronavirus. Their community outreach includes presentations and master classes by virtuoso and professional musicians to the Delaware Valley School District and even beyond. KSAP is supported in part by the Pennsylvania Council on the Arts, a state agency funded by the Commonwealth of Pennsylvania and the National Endowment for the Arts, a federal agency along with an impressive group of friends and local businesses and organizations.
Kindred Spirits has pivoted gracefully and quickly during the Coronavirus to keep its summer program going. This coming Saturday on July 11, Get Up Jack, an American-Irish folk song band, will perform Being Irish Then and Now at 7:30 pm at the Milford Health Parking lot where ticket holders will watch from their cars. There are other outdoor performances also planned for the summer and you can check the schedule on the website.
By Victoria Larson, Editor, Side of Culture
VK Larson Communications