A Monument to one of the Great Civil War Generals and President
Everyone jokes about who is buried in General Grant's Tomb and, indeed, General Grant and his wife, Julia Dent Grant lie in Grant's tomb in New York City. These red granite coffins in an open crypt surrounded by busts of the most famous Civil War generals housed in this enormous mausoleum are a cultural institution. The formal name is the General Grant National Memorial and it is across the street from the beautiful Riverside Church and the stately institutional buildings on New York City's upper west side in and around Columbia University. My recent visit was made all the more enjoyable as we had just finished listening to the audio version of Ron Chernow's immensely informative and entertaining history of General Grant's professional and personal life: Grant.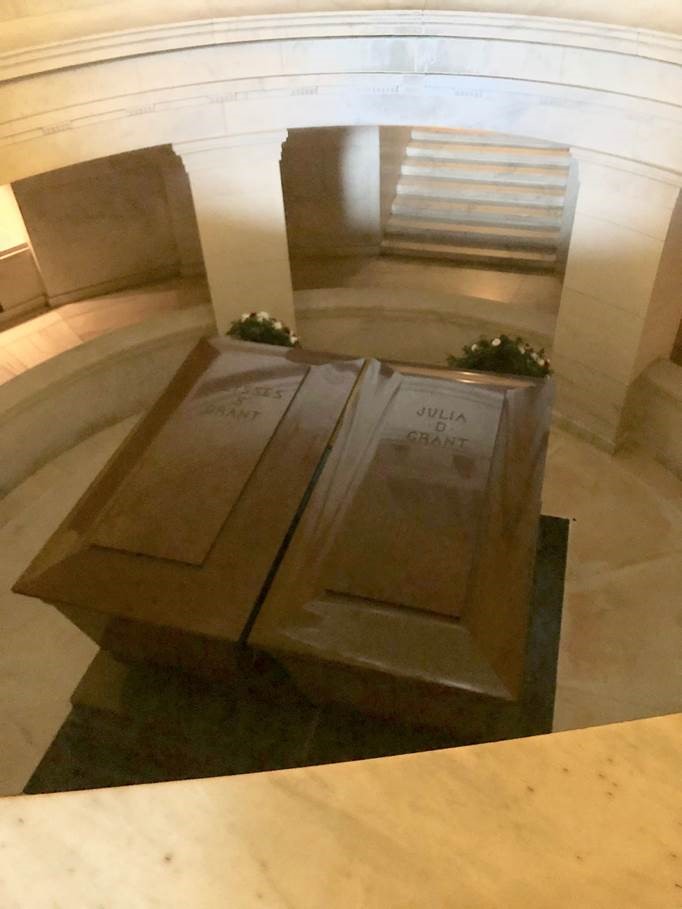 Grant's tomb is literally a cultural institution, historical place and is the largest mausoleum in North America. This enormous and stately building is a monumental honoring to General Ulysses S. Grant and is now maintained by the National Park Service, part of the U.S. Dept of the Interior. The National Park Service is in charge of maintaining and preserving many beautiful buildings of American heritage, such as St. Gaudens in New Hampshire. Because of Grant's status as a national hero, most Americans assumed he would be buried in Washington D.C. but his family preferred New York City. The funeral on August 8, 19995, was a huge event. It took place on April 27, 1897 on the 75th anniversary of Grant's birth, 12 years after his death.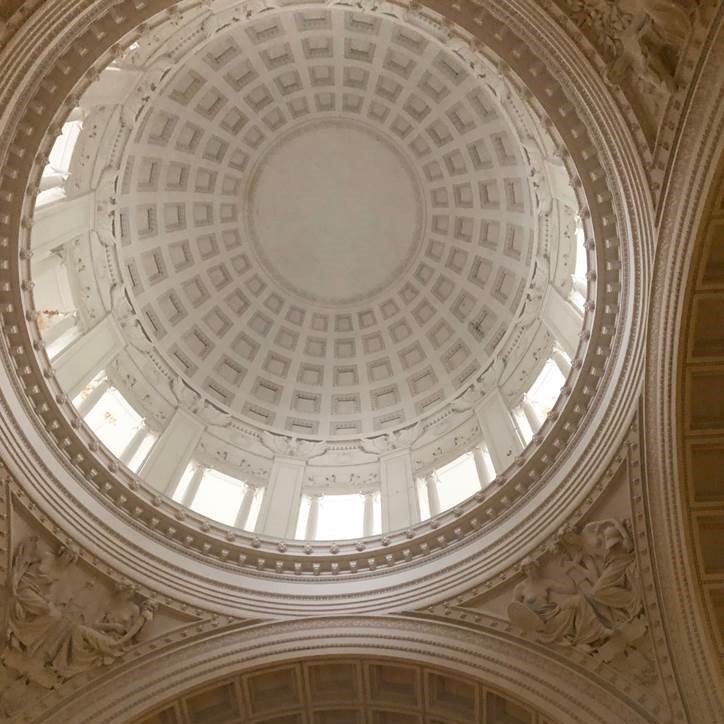 The Grant memorial was designed by architect John Duncan 150 feet from the bluff of the Hudson River at 125th Street and Riverside. Spearheaded by the Grant Monument Association, some 90,000 people from around the United States and the world donated over $600,000 to create the memorial, the largest public fund-raising up until that point. General Grant was America's national war hero leading the Union side against the Confederacy in the Civil War. Grant also is famous for his two-term presidency and as the defender and supporter of justice and equality for African Americans. Passage of the 15th Amendment in 1870 guaranteed voting rights to African American men and enforced legislation to curb violence by white supremacists. Grant instituted many other reforms and elevated the American Indians. He also signed a law declaring that Yellowstone would be set aside as a national park, creating the first national park in American and by doing so, created the foundation for what later became the national park system.
The memorial is open from 9 am to 5 pm daily. For information and group visits, call 212-666-1640. There is a book shop and a delightful park and sitting area in front of the monument. General Grant's tomb is one of over 390 parks in the National Park System. www.nps.gov
By Victoria Larson, Editor, Side of Culture
VK Larson Communications