Who knew that a Smithsonian affiliated global arts organization is located in New York City's very own Flushing Queens? Flushing Town Hall located in the heart of Queens not only celebrated its 40th anniversary last year but it is taking the pandemic head on with virtual programs.
Flushing Town Hall's goal is to support the works of local, immigrant, national, and international artists at accessible prices. Its mission? Bring people together by presenting Global Arts for Global Communities. And, what better place to do it than in the area that The NY Daily News rightly reports as the most ethnically diverse place on Earth. With over 800 languages in New York City, Queens is thought to have cornered the market on most of them and is widely considered the language capital of the world. Many of those languages are spoken by the multidisciplinary artists who bring visual arts, performing arts, puppetry, dance, music, and more to Flushing Town Hall.
Flushing Town Hall has a serious mission and a serious audience. Starting in 1990, the Flushing Council on Culture and the Arts (FCCA) began a nine-year, $8 million restoration of historic Flushing Town Hall (FTH), a landmark (1862) owned by the City of New York, transforming it into a thriving multi-disciplinary arts center that includes a 308-seat theater, gallery, garden, classroom and rehearsal space. The vision for the space and the programming is to bring audiences together via high-quality arts exposure and experiences through programs in Jazz, classical and world music, theater, dance and spoken word, family and education programs, senior programs, exhibitions and free community events.
Like all cultural institutions impacted by the global pandemic, Flushing Town Hall has recalibrated its programming. Recognizing the power of the arts to heal, and uplift, and tell humanity's stories — especially through times of struggle and grief —Flushing Town Hall staff, working remotely, quickly transitioned to online programming, making all virtual content available for free.
For more than six months now, through FTH at Home!, virtual programming has been offered online – including prior, live performances recorded at the venue, new educational videos for children and schools, a virtual dance camp, monthly virtual Jazz Jams with now global participation, and weekly Zoom hang outs for community members and artists – the organization even held its first-ever virtual Gala, Step Up Soirée with days of dance, cooking and cocktail mixing activities, leading up to the big night.
In July, Flushing Town Hall launched its first, physical art exhibition since the pandemic hit — with an open invitation for New Yorkers to contribute artworks. The Community Art Exhibition "Call and Response: Grief, Resiliency and Hope" displays artworks outside the building along Flushing Town Hall's fence. Flushing Town Hall invites everyone, from artists to amateurs to families to express their thoughts and feelings through art, and so far over 20 objects have been collected. To encourage participation, Flushing Town Hall has been handing out free art kits on select days. Artwork is still being accepted and updates about the project can be found on the organization's website and its social media channels.
"With this community arts project, we want to provide a platform for the public to express our range of emotions as a path toward a more inclusive and equitable world," says Ellen Kodadek, Flushing Town Hall's Executive & Artistic Director.
Looking ahead, Flushing Town Hall is planning the rest of the year to remain virtual and is looking forward to a physical reopening, following government guidance on the safe re-opening of small venues to welcome artists and audiences from across the world again.
This fall, a new virtual series of Global Arts for Global Kids is being created to support schools and families with content that aligns with the K-12 curriculum. Also, already starting this month, Flushing Town Hall presents Global Mashups 2018 Replay (September 1 – 22), Latin American Rhythms Night (September 16), and Coreyah from South Korea (September 29) as part of a brand new Global Music Month with partners across the US & Canada. There are also plans to bring back new sessions of the popular Global Mashups live and virtual.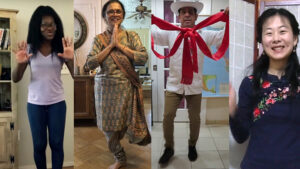 For the foreseeable future, Flushing Town Hall will also be unable to book its traditional lineup of international artists, as most global travel has been paused and, as a result, there will be more of a focus on local artists. The pandemic has had a serious financial impact, too. Lost revenue from ticket sales and rentals is significant, and expenses have not disappeared. Flushing Town Hall's beautiful, historic building must be maintained and safeguarded, artists and staff who generate virtual content must be paid, and re-opening will be expensive.
"No one knows for certain what the future has in store," says Kodadek, "but I do know that with the support of donors and elected officials rallying to save the arts and nonprofit sectors, that Flushing Town Hall will continue offering high-quality global arts and education programs, both online and in-person as soon as we can do so. We contribute so much to the cultural and economic fabric of New York. We will take part in its recovery."
If you come to Flushing, try Ellen's favorite dish: Ma Po Tofu (extra spicy) from Hunan House right across from Flushing Town Hall.
Flushing Town Hall is a member of the NYC Cultural Institutions Group (CIG) – a partnership of 34 prestigious institutions in the five boroughs which all operate out of buildings that are owned by the City of NY. Other CIG members include the Lincoln Center, Carnegie Hall , BAM, Queens Museum, and more. The organization aims to foster mutual appreciation across cultures and art forms and provides hands-on opportunities to learn and engage. Flushing Town Hall welcomes donations from those who are able and moved to contribute. Donations of any amount are accepted at www.flushingtownhall.org/donate
By Victoria Larson, Editor, Side of Culture
VK Larson Communications