Founded in 1934 in New York City, the Academy of American Poets is the nation's leading champion of American poets and poetry, with members in all fifty states. Its mission is to support American poets at all stages of their careers and to foster the appreciation of contemporary poetry. Side of Culture chooses this time to write about the organization obviously because it is a cultural organization that makes a huge contribution to the national cultural fabric and it has just announced its highly respected Poets Laureate Fellows.
Through its Poets Laureate Fellowship program, the American Academy of Poets has become the largest financial supporter of poets in the nation. These 23 individuals serve as Poets Laureate of states, cities, counties, and the Navajo Nation and will be leading civic poetry programs in their respective communities in the year ahead.
One of the winners this year hails from Queens, New York. Twice nominated for a Pushcart Poetry Prize, Maria Lisella's collections include Thieves in the Family (NYQ Books), and two chapbooks, Amore on Hope Street (Finishing Line Press), and Two Naked Feet (Poets Wear Prada). Maria Lisella also holds the honor of the sixth Queens Poet Laureate. Maria Lisella is also a leading voice in the Italian American Writers Association (IAWA) which promotes Italian American literature by encouraging the writing, reading, publication, distribution, translation, and study of Italian American writing.
A sample of one of Maria Lisella's poems is here:
Birthday by Maria Lisella

Tracing the arc with his fingers, he says
"The nurse at the facility told me
I have a scar that goes clear over my head
from ear to ear, so, I don't want to take
my hat off."

Through the slats of sunshine
across his scalp and face I see
the polished tight skin glint in the sun.

Smooth, flat, barely noticeable. I share this with him.
He takes off his hat in the restaurant.

I cannot take my eyes off it.
A wide smile over the top
of a broad skull.

As a child, he had troublesome hair
nappy, wirey. We experimented
with hair products to tame it.
He wanted so much to look like
everyone else.

We are celebrating his birthday.
A day out for him from the "place."
His choice: new restaurant, Italian,
nearly empty at lunchtime.

"I'm lucky I only got blind
two years ago – I got to see the beach
at Luquillo, Christmas trees and the
storks at the Jamaica Reserve."

The sun shifts across the table
spotlighting the calamari,
eggplant, golden crusted bread.

Now in shadow, it blends
into the rest of his besieged head
A clean strip, quiet, glistening.

"Tell me for real, can you see it"?
I stick with my mantra,
"No you can't."

A stack of three cannolis
under a lit candle. We sing
Happy Birthday. He is ready to go.

"I need to feel the weather,
to feel the sun, it will make
the scar disappear into my skin better."
The fellowship program is made possible by The Andrew W. Mellon Foundation, which, in January of this year, awarded the Academy $4.5 million. The award will fund the program in 2020, 2021, and 2022. The 2020 Poets Laureate Fellows and the communities they serve are Honey Bell-Bey (Cuyahoga County, OH), Tina Cane (Rhode Island), Tina Chang (Brooklyn, NY), Nnamdi Chukwuocha and Al Mills aka the Twin Poets (Delaware), Rosemarie Dombrowski (Phoenix, AZ), Beth Ann Fennelly (Mississippi), Angelo Geter (Rock Hill, SC), Margaret Gibson (Connecticut), Rodney Gomez (McAllen, TX), Elizabeth Jacobson (Santa Fe, NM), Stuart Kestenbaum (Maine), Susan Landgraf (Auburn, WA), Maria Lisella (Queens, NY), Porsha Olayiwola (Boston, MA), Alexandria Peary (New Hampshire), Emmy Pérez (Texas), Mary Ruefle (Vermont), Janice Lobo Sapigao (Santa Clara County, CA), John Warner Smith (Louisiana), Laura Tohe (Navajo Nation), Amie Whittemore (Murfreesboro, TN), and Assétou Xango (Aurora, CO).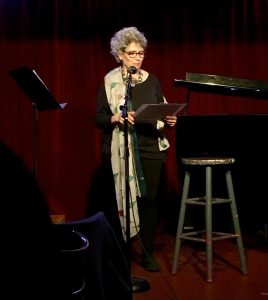 Each year, the American Academy of Poets connects millions of readers to poets' work with its many programs and publications, which, in addition to Poets.org, include Poem-a-Day, the first place of publication for new poems by 260 poets annually; National Poetry Month (April), which the Academy founded in 1996; American Poets biannual literary journal for members; the American Poets Prizes, which provide more than $200,000 to 150 poets each year; Poetry & the Creative Mind, a celebration at Lincoln Center's Alice Tully Hall of poetry's influence on other artists and public leaders; a Fall Conversation Series, that features poets and other artist; and an Education Program that provides free resources, such as lesson plans, the award-winning weekly series Teach This Poem, and the Dear Poet project for K-12 teachers and students. In addition, the organization coordinates the Poetry Coalition, an alliance of more than 20 poetry organizations across the United States.
By Victoria Larson, Editor, Side of Culture
VK Larson Communications