NYC Salt creates opportunities in visual arts and pathways to college for under-served New York City youth by engaging them in a rigorous blend of professional photography instruction, one-on-one mentoring, college-preparatory workshops, and career exposure. Located at 214 West 29th Street, NYC Salt is a gateway as it not only organizes these after-school programs but opens up a whole new level of art, expression and career potential.
The founder, Alicia Hansen, and her photographer husband, Adam Chinitz, started NYC Salt in 2008 and it has grown and thrived over the last eleven years. NYC Salt now serves 150 youth annually—in its own studio, as well as in schools and community centers—year-round.
Alicia says the idea for Salt came about when she saw kids hanging out on the street in her neighborhood of Washington Heights. She wondered, "if digital photography and technology would be something that they could do that would be more constructive and empowering."
The organization is supported not just by well-meaning individuals but by talented photographers, videographers and producers, including pros from The New York Times, National Geographic and Fortune Magazine. These experienced professionals are vital as they are able to detect talent, guide potential and make sure students have the basic tools down before they take their creative leaps in the real world.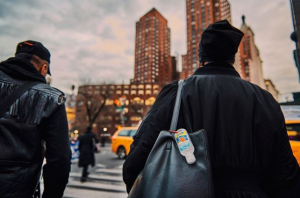 But it's not just about the power of teaching according Alicia Hansen. NYC Salt requires its students to dedicate 2 ½ years to their individual programs. This in-depth commitment of time and energy, teaching, learning and caring is what makes all the difference in changing the students' lives and enabling them to go out in the professional world confident of their abilities, well organized and able to manage their time.
And the students agree as they offered the following comments:
Salt is a huge commitment, but it is a commitment that "you are willing to make because you are so passionate about what you are doing."

"It goes beyond photography, because (Salt) introduces you to so many opportunities in the photography world and also they prepare you for college."

"Salt does not just help with photography, they help you with everything in life. You can just call one of your mentors if you have a problem."

"Salt is a big family that is responsible and committed."
Also, the community of professionals who support Salt and act as teachers and mentors are the significant factors of success for students understanding their options in the industry and entering into the creative workforce.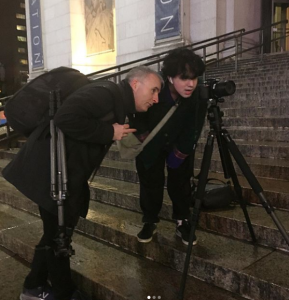 Important to this entire organization and the students is SALT's annual artist installation. Every year, NYC Salt hosts a huge art show of the students' works that give the students a chance to present their work and to raise money through the sale of prints.
This year, SALT had to cancel three events in March – it was a traveling show at three big ad agencies – as well as the big June show which of course has impacted revenues and income for scholarships and programs but Alicia Hansen stays positive. In fact, her positive spirit seems indomitable as she explained that her board members have sprung into action to put together a print sale that will go live shortly.
Over 200 photographers nationwide have donated photographs that SALT is giving away for a donation of $150 or more. They have some special prints that will sell for more from Martin Scholler, Chris Morris, Kathy Ryan among others. "It's actually an incredible collection," said Hansen, "and I'm overwhelmed that so many people in the industry have been so generous in supporting us and caring about keeping our doors open." She is also hoping that the loans and grants they applied for might still come through.
In the meantime, all of NYC Salt's programs are running virtually. The college guidance has switched to weekly one on one appointments with the college counselor and all our students are set to go to school in the fall if they open. Being small has had the advantage of quick adaptability with no loss to services. For now, you can visit the NYC Salt website and see some of the works there at www.nycsalt.org. And, as soon as things are back to normal, you can even visit the studio with an appointment.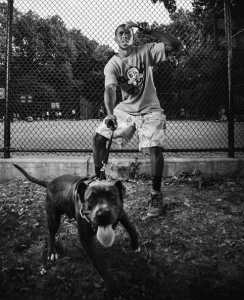 Last but not least: The places they eat— Mandoo in Little Korea is a favorite. Tacoombi is also a favorite and El Parador is a special place we have celebrations for volunteers and staff.
By Victoria Larson, Editor, Side of Culture
VK Larson Communications