Wandering through her neo-renaissance Florentine palazzo, now the Isabella Stewart Gardner Museum, you can't help wishing you'd been invited to one of Mrs. Gardner's soirees. To say she was a character doesn't do her justice; she defied all the blue-blood Brahmin conventions of the proper Boston matrons whose eyebrows she frequently raised (she liked wearing a pair of her largest diamonds bobbling on gold springs atop her head, like giant bug antennae).
Mrs. Jack, as she was known, befriended artists and musicians, danced the tango and had her portrait painted in 1888 wearing an off-the shoulder gown. John Singer Sargent, who painted the portrait, frequently worked in her palazzo, Ruth St. Denis danced in the Cloisters, and opera diva Nellie Melba sang from the balcony of the Dutch Room.
Not the least of her eccentricities was creating the home for her vast art collections, a Venetian palazzo overlooking the fens in Boston's Back Bay. And opening it to the public. As a collector, her taste was sublime and her resources bottomless. She worked closely with Renaissance art expert Bernard Berenson, who advised and helped her acquire priceless works.
One of these, Rembrandt's Self-Portrait, Age 23, started the Gardner's considering a bigger home for their collections than their Beacon Street town house. In 1897 they traveled through Italy collecting columns, windows, doorways, reliefs and other architectural fragments for a palazzo that would be inspired by the Venetian Palazzo Barbaro, where the Gardner's were frequent guests.
A year later, Jack Gardner died, but Isabella carried on with their plans, taking a very hands-on approach, even to climbing a ladder to show workmen how to paint the mottled pink she envisioned for the courtyard walls. On New Years Day in 1903, guests heard the Boston Symphony Orchestra play as she unveiled the magnificent courtyard at the grand opening of her new museum.
The dramatic courtyard is at the heart of the palazzo, a light-filled atrium overlooked by Venetian Gothic windows of the galleries above. A mosaic tile floor is surrounded by statues, columns, palm trees and flowers that change with the seasons. At any time of year it is breathtaking and leaves as lasting an impression on visitors today as it did her guests in 1903.
The collections displayed in rooms surrounding the four-story central courtyard total 2500 paintings, sculptures, furniture, tapestries, decorative arts, needlework, books, manuscripts and other works that reflect her personal and highly eclectic tastes in art and decorating. Throughout the museum's rooms are everything from Roman sarcophagi and Medieval stained glass windows to rare 18th-century German lace. Titian's Europa is generally acknowledged – even by other museums – as the most important artwork in Boston.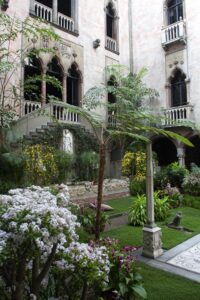 In spite of – or because of – the various periods, styles and elements that range from Roman and Byzantine to Renaissance, the result is harmonious. Although her main concentration was on Renaissance art, the collections span from a 12th-century BC Chinese bronze beaker to pastels by her contemporary, James McNeill Whistler.
Living in her apartment on the upper floors, Isabella continued to collect and arrange her acquisitions throughout the museum, which was open to the public, for the next two decades, organizing exhibitions, lectures and concerts for her friends and for the public.
When she died in 1924, she left the museum and an endowment to maintain it "for the education and enjoyment of the public forever." She further stipulated that nothing in the galleries was to be changed, and nothing acquired or sold from the collection, so what you see is the home where she lived and entertained the day's leading artists and musicians.
The only changes are the empty frames that held the Vermeer, Manet, three Rembrandt and five Degas works stolen in 1990, in one of the world's most notorious art heists. The works have never been recovered (and the $5 million reward is still offered), and you can learn about it in the excellent virtual tour of the galleries where these works were displayed. You can browse all the collections, with details about other individual works, audio walks, room guides and close-up views of individual works in room-by-room virtual tours.
In 2012 another dramatic change came to the museum, although not one that altered ISG's rooms or arrangement of the collection. Instead, an entirely new wing was created behind the palazzo. The museum that Mrs. Gardner designed had been increasingly burdened by numbers of visitors and the needs of programming. Live concerts were cramped, held in a room that she had designed as a gallery for her collection of fine tapestries. The artist-in-residence program that began with John Singer Sargent, suffered from severe lack of space and had no gallery to exhibit the artists' work. Art programs for children and other visitors were crammed into tiny spaces.
The answer was a new wing, designed by Italian architect, Renzo Piano. The 70,000-square-foot glass-clad building creates new viewpoints for the original palazzo and stunning new spaces for music and visual arts. The new wing, housing a welcome center, restaurant, shop, classrooms, conservation labs, performance hall and exhibit space for contemporary artists, leaves the palace as it was intended, a place for visitors to encounter and relate to art.
However much his new wing contrasts in style to the original palace, Piano clearly listened to Mrs. Gardner's muse as he conceived his parti for the building. One of the primary spaces, Calderwood Hall, is a contemporary reflection of the palace's courtyard, rising in four layers of balconies that overlook a cubic space.
One of the few places in the new building that does not have at least one wall of glass, this performance venue is crowned by a skylight, bringing in the natural light that is Piano's signature — and again reflecting the palace's sky-lit courtyard.
On all four sides, four levels of balcony rise above the performance level, each with a single row of seats, so each concert-goer has the sense of sitting in a box seat. Most exciting, the sound in this remarkable space is pure, clean and crisp – everywhere from the seats on the first level to those in the topmost tier.
Piano's first collaboration with acoustics master Yasuhisa Toyota, who worked with Frank O. Gehry to create the Disney Concert Hall in Los Angeles, resulted in this unique cubic concept. Calderwood Hall is the venue for chamber music, new music and jazz, hosting the museum's Sunday concert series and other performances.
At the opening in 2012, Renzo Piano described Calderwood Hall as a combination of science, art and public sharing, using it as an example of why museums are important to public life. "Art makes people better people," he explained, "And makes a city a better place to live. Museums are special places for civilization."
Off the glass entrance foyer is new greenhouse, so landscape artists (the museum has its own landscape curator, perhaps a first for any museum) can work with plants that fill the palace courtyard year-round. It's also a venue for programs and lectures on landscape gardening.
A corridor connecting the old and new is completely transparent, with both buildings clearly visible overhead. From this vantage point visitors can appreciate such details as the choice of patinated copper sheaths for the non-glass walls of the new building, echoing the copper flashing of the palace.
Rather than clash or compete with the original building, Piano's new wing simply provides a new glass through which to view Mrs. Gardner's palazzo. From almost anywhere in the new building are uninterrupted prospects of the palace and gardens through transparent walls – from the café, the "Living Room" visitor center, the entrance, the exhibition space, even the wide stairway. Piano refers to this as a "constant dialogue with the palace."
This architectural and artistic tour de force gave Mrs. Gardner's gift to the people of Boston a new lease on life, making possible children's and community arts programming, special events, performances, hands-on arts workshops, more interpretive and educational options for community outreach. Plus, the new wing created space for an outdoor garden, an expanded café and a spacious gift shop filled with art-related books and gifts.
How would Mrs. Gardner – a woman of legendary strong opinions – react to the new glass-and-copper ultra-contemporary structure behind her palace? The question was put to Renzo Piano – what would he say to Mrs. Gardner if they were to meet in the hereafter?
"I would tango with her," laughed the architect. Until then, his new wing performs a dramatic and graceful dance with Mrs. Gardner's palazzo.
The
Isabella Stewart Gardner Museum
, in Boston, is operating under highly restricted visitor capacity, with a limited number of tickets available each day. Entry will be timed, with all members and visitors required to reserve or purchase tickets online or by calling the ticket office in advance. Common areas, including the greenhouse, and interactive objects and activities will be unavailable.
Side Dish
After touring the museum – or as an intermezzo – enjoy lunch in the new Renzo Piano wing, at the bright Café G, where the menu is based on local, seasonal and organic ingredients, and specials are often inspired by museum's collections.
If your visit is between June and October, stroll through the adjoining Fens, a vast green space that's part of landscape architect Olmstead's Green Necklace, to the lovely Rose Garden. For more art, Boston's Museum of Fine Arts is only a block away, and also nearby are the galleries of the Massachusetts College Of Art And Design (MassArt) and the School of the Museum of Fine Arts at Tufts University.
By Barbara Radcliffe Rogers and Stillman Rogers
Barbara Radcliffe Rogers
Europe Correspondent, Planetware
Luxury Travel Editor, BellaOnline
Features, Global Traveler Magazine
https://worldbite.wordpress.com
Stillman Rogers
World Correspondent, Destinations
Photographer, Planetware.com