In addition to the Great Jack O'Lantern Blaze, another legend comes alive this Halloween season in Sleepy Hollow. Hulda: The Other Legend of Sleepy Hollow returns this fall at The Old Dutch Church of Sleepy Hollow. Featuring Carla Lynne Hall, with an original score performed by Jim Keyes. This one-woman show tells the story of Hulda of Bohemia, a woman who was originally shunned in Sleepy Hollow for being a witch, but later became a Revolutionary War hero. The wildly popular Great Jack O'Lantern Blaze also returns in 2022, featuring over 7,000 hand-carved, illuminated pumpkins set against the mysterious backdrop of Van Cortlandt Manor's 18th-century buildings and riverside landscape.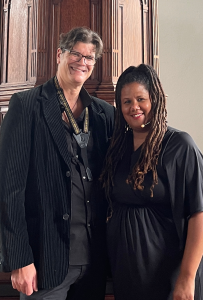 Sleepy Hollow is a famous place any time of year. Each fall, tens of thousands of people from around the world flock to Sleepy Hollow in Hudson Valley, New York to visit the burial ground made famous in Washington Irving's 1819 tale, "The Legend of Sleepy Hollow." In Irving's tale, "the Headless Horseman," is a German soldier said to return to the gravesite, in search of his head that was lost during America's Revolutionary War.
Many people do not know that this famous graveyard was also known for another resident, Hulda of Bohemia, a woman who lived in the woods of Sleepy Hollow during the 1770's. She is believed to be the "High German witch doctor" from the legend. Also, Edgar Mayhew Bacon's 1897 book Chronicles of Tarrytown and Sleepy Hollow mentions Hulda as the woman whose basket weaving and healing abilities led to her being shunned as witch, while her skills as a sharpshooter made her a Revolutionary War hero. Because of her bravery, the Sleepy Hollow minister approved her burial. Since she wasn't believed to be Christian however, she was buried right outside of the consecrated church burial ground without a headstone.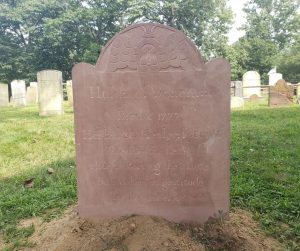 Hulda's story came into prominence after Jonathan Kruk's 2011 book Legends and Lore of Sleepy Hollow and the Hudson Valley included a chapter on the "Witch of Sleepy Hollow." An orange flag stick marked the spot where she was buried for many years, but it was regularly stolen as a souvenir by cemetery visitors. In 2019, the Old Dutch Church honored Hulda with a Remembrance Service and a gravestone in a prominent location in the cemetery. Now a popular visitor destination throughout the year, Hulda's gravestone receives offerings of coins, stones, and herb bundles. Jim Keyes, the daytime storyteller at the Old Dutch Church, adds, "Washington Irving's 'Headless Horseman' is a classic tale for sure. But it's fun to offer another story to the Sleepy Hollow canon."
"Some people would come looking for the witch, especially at this time of the year, and those of us who knew her history felt it was important to give her proper recognition as a patriot," said Deb McCue, head docent of the Old Dutch Church. "For me, honoring Hulda also honors the memory of the nameless women who contributed to the Revolution as soldiers, spies, nurses, and cooks, as well as those who watched over their farms and families during those harsh and frightening times."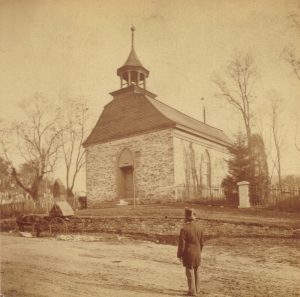 This year, storyteller Carla Lynne Hall offers an updated narrative of Mother Hulda in Hulda: The Other Legend of Sleepy Hollow. She said, "When Hulda's gravestone was erected in 2019, I was fascinated with the story." As her husband Jim Keyes was the daytime storyteller at the Old Dutch Church for its "Legend of Sleepy Hollow" event, Carla Lynne Hall spent a lot of time exploring Hulda's history. "I found myself retelling her [Hulda's] story at her gravesite to anyone who'd listen. Most Revolutionary War narratives focus on what men were doing. The importance of Hulda's story is that it reminds us that women, enslaved Africans and Native Americans were here as well, and contributed in their own way."
This program has also received support from the Revolutionary Westchester 250 organization, whose mission is to build awareness and appreciation for the Revolutionary War era in Westchester. In anticipation of the nation's 250th anniversary of the American Revolution in 2026, the Westchester Library System will offer this program under the name Hulda: The Witch of the Revolution.
Tickets for this month are available online at https://tickets.hudsonvalley.org/events. Please note that this event has limited capacity. Advance tickets required. Location is the Old Dutch Reformed Church at 430 Broadway, Sleepy Hollow, NY 10591 and the performances take place: October 15-16, 22-23, 29-30, 2022; 1:00pm, 3:15pm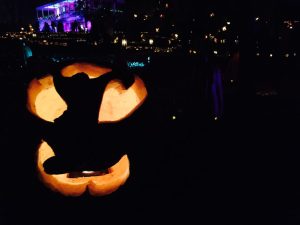 After your visit to the show of Hulda: The Witch of the Revolution, you can make your way over to the Great Jack O'Lantern Blaze where the Legend of Sleepy Hollow by Washington Irving soaks the atmosphere as everyone looks nervously over their shoulders to check if the headless horsemen or Ichabod Crane is headed their way. Synchronized lighting and an original soundtrack add to the atmosphere. More than 1,000 volunteers help scoop, carve, and light the over 7,000 pumpkins and every single jack o'lantern is hand-carved on site by a team of professional artists.
You will see life-sized dinosaurs, an enormous 24-foot spider web, the Pumpkin Planetarium, a working carousel among many other tricks and treats. Advance reservations required. For reservations: buy tickets online, no tickets will be sold on site. It runs through November 22, 914-366-6900. This all takes place at the Van Cortlandt Manor, 525 South Riverside Avenue, Croton-on-Hudson, NY 10520.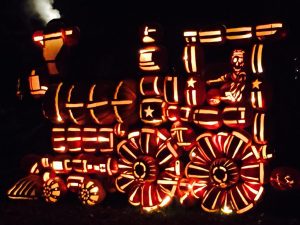 Thanks to the Historic Hudson Valley (HHV), which was founded by John D. Rockefeller, in 1951 as Sleepy Hollow Restorations, there are many educational and cultural programs to visit in the Sleepy Hollow area. HHV delivers quality educational and entertaining experiences; owns, restores, and preserves several sites that possess documented historical integrity, architectural distinction, superb decorative and fine arts collections, and exceptional importance of landscape and setting. Together, these sites provide meaning for visitors in a variety of settings, including traditional house and landscape tours, formal educational programs for schoolchildren, popular on-site special events, and digital media.
By Victoria Larson, Editor, Side of Culture
VK Larson Communications