Unlike the isolation of Plymouth Colony, 18th century Williamsburg was the bustling energetic capital of Virginia, the largest and most prosperous British colony in America where men and women from all walks of life strolled the busy streets. Today Colonial Williamsburg is the largest outdoor living American museum. Its 301-acre historic area encompasses restored and recreated buildings, including three main thoroughfares with connecting side streets. John D. Rockefeller, Jr. and his wife, Abby Aldrich Rockefeller, notable for their philanthropy, donated millions for the reconstruction of Colonial Williamsburg in the 1920s. Today rare animal breeds, historic trades and restored gardens add layers of authenticity to the Colonial Williamsburg experience. It's like travelling back in time with costumed guides speaking as though they are living in the 18th century.
Here is the dawn of America. Tradespeople—blacksmith, brickmaker, cabinetmaker, gunsmith, cooper, wigmaker, wheelwright, weaver, shoemaker—all use 18th century tools and techniques for their crafts. The public watches them honing their skills and often there is a hands-on experience. Behind the scenes, these tradesmen are also making tools. In a museum devoted to authenticity, workers are always working to improve techniques. Tools were adapted to the work at hand so there are many sizes and shapes and designs, resulting in a "tool diversity of the period." Carpenters tended to make their own tools, often embellishing them with distinctive designs or decorations and with a custom fit. Carriages made in the wheelwright shop display paint that is made in the 18-century mode. Paul Zelesnikar, a wheelwright and supervisor of the shop, began to make his own paint about 15 years ago. He learned the process as an apprentice and is, in turn, passing it on to his own apprentices.
The Governor's Palace was the third largest public building in Williamsburg, and its size signifies the position the Governor held as the King of England's representative in the largest American colony. The Georgian home included immaculate grounds with a formal garden and natural park. The elaborate household contained a stable, carriage house, kitchen, laundry and an octagonal bathhouse, requiring 25 servants and slaves. At the Capitol, independence was declared before all other colonies, setting the pace for the American Revolution. On May 15, 1776, Virginia legislators instructed their delegation at Philadelphia's Continental Congress to introduce a resolution to make the colonies independent from Great Britain. The gentlemen at Williamsburg sat in the oldest representative assembly in what was then the world's youngest nation.
During the early days of spring, the gardens of Colonial Williamsburg stand out with the shapes, angles and dimensions of plants against a backdrop of new greenery. Colorful flowers of the season will appear later. The canal and fish pond on the west side of the Governor's Palace are original 18th-century garden features. The chinoiserie-style bridge that crosses one end of the canal reflects that style's popularity at that time due to the rise in trade with East Asia, particularly China.
The Arboretum, comprised of 18th-century tree and woody shrub varieties, features 25 period species of oak trees and more than 30 historic gardens. From flowering backyard pleasure gardens to the Governor's Palace grand gardens and grounds, these gardens offer insight into the ways the colonists lived and worked as a community.
Two art museums display extensive collections: The DeWitt Wallace Decorative Arts Museum with American and British antique furniture, ceramics, prints, textiles and more, and under the same roof, is the Abby Aldrich Rockefeller Folk Art Museum, the oldest institution in the U.S. dedicated solely to American folk art.
Food has always been important here. Williamsburg taverns served as community spaces. Licensed tavern keepers were bound by law to provide basic services to travelers, their servants and horses. But Williamsburg taverns often did more; they provided meeting rooms and amusements. Tavern keepers sold merchandise, hosted cockfights and served private dinners. Patrons engaged in card games, drank alcohol and gambled. The tavern was a true meeting place of farmers, planters and merchants. In the 1760s, Williamsburg boasted some 21 taverns to serve a population of about 1,500, which grew when the legislature was in session and members came to town.
The King's Arms Tavern, opened in 1772 and today is described as a "refined chophouse experience," as it serves up a true gustatory experience. Every detail is true to the time period from the fashion that servers wear to the pewter candlesticks. The pandemic forced the tavern to close its doors for a time, but it is now open with a revamped menu, reflecting colonial contemporary fare.
Frank Clark, an expert on historic foodways at the Colonial Williamsburg Foundation, has worked to produce a menu that is a literal interpretation of 18th-century fare so that the public can better understand how food shaped life during the period. "We have a fabulous resource in the form of printed cookbooks that were published and written in this period," he says. They represent "an immense catalogue of information that really exceeds most any other historic trade that we have here in Williamsburg." Carrot puffs, similar to hush puppies, are now on the menu as is hunters game pye, filled with scraps of venison, duck and rabbit, a dish originally invented to destroy any bacteria that may have developed after the meat was first cooked. Making people sick was not beneficial for a tavern's business.
Another element of research affecting the menu is the nod to African-American cooks. It was the white cookbook writer that influenced most recipes although Virginia food would not exist without the influence of the African-American cook. The King's Arms peanut soupe, a tavern specialty garnished with roasted peanuts and sherry cream, is an apt illustration—a variation of a recipe developed by George Washington Carver, celebrated African-American agricultural scientist and peanut enthusiast. Nicknamed "The Peanut Man," he developed more than 300 food, industrial and commercial products from the common legume, including milk, cooking oils, cosmetics and wood stains.
European explorers first discovered the peanut plant in Brazil. They were grown as far north as Mexico when the Spanish began their exploration of the New World. These explorers took peanuts back to Spain, and they soon spread to Asia and Africa. Since African slaves introduced peanuts to North America in the 1700s, they became a staple of the plantation diet. Soups like this are part of a rich African American culinary heritage. Today Virginia holds a solid reputation as a producer of the gourmet peanut, large in size with a distinctive crunch. Farmers in the southeastern region of the state produce millions of pounds annually as the peanut continues to be a popular ingredient in Virginia cookery.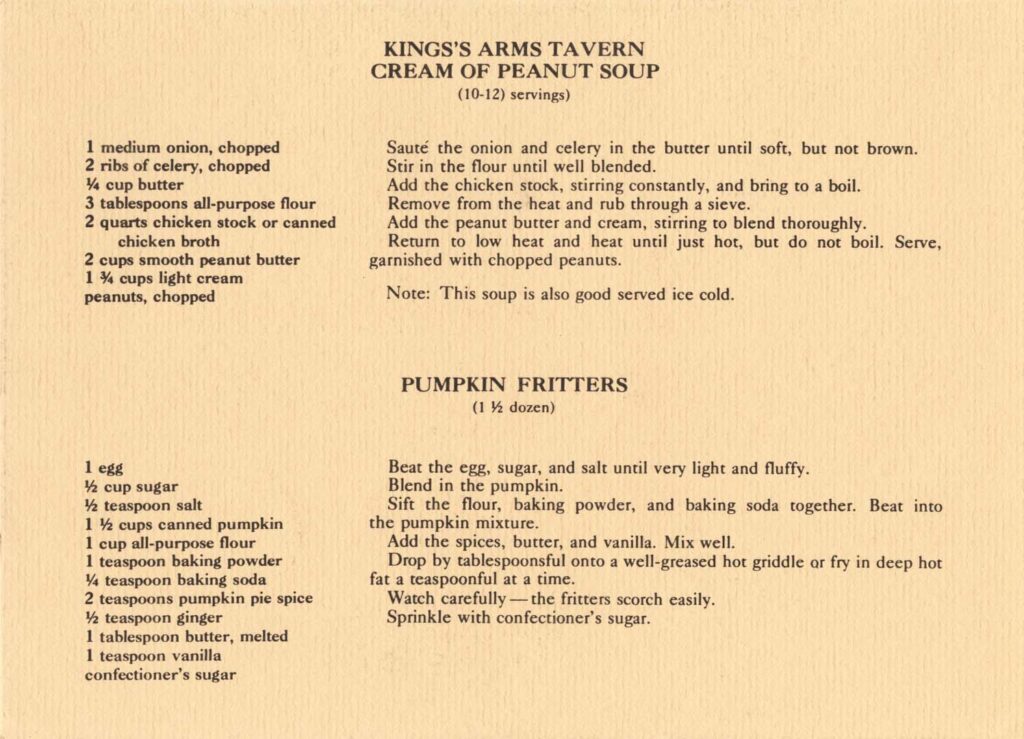 Here at Colonial Williamsburg, you can enjoy historically inspired and contemporary creative cuisine. Whether it's elegance at the Williamsburg Inn or hearty pub fare at one of the taverns, this living museum helps turn food into a record of the nation's cultural history.
All photos in this article are courtesy of the Colonial Williamsburg Foundation, unless otherwise noted.
Cynthia Elyce Rubin, Ph.D. is a visual culture specialist, travel writer and author of articles and books on decorative arts, folk art and postcard history.