Decades before radio and television, velvet-covered postcard albums entertained the entire family. As ubiquitous as the family Bible, these albums included vacation remembrances, portraits, holiday greetings and views of exotic faraway lands and peoples. A fascination with collecting and the need to learn more about the world seemed of paramount importance. Today, those very same postcards can entertain you. Attend the annual Wichita (Kansas) Postcard Club Show, and you can buy the identical postcards that were fascinating the American public in the early 1900s. It's a real community event that began in October 1977 after collector Hal Ottaway gave a postcard presentation to members of the Wichita Historical Museum. The idea of collecting postcards grabbed the attention of attendee Bert Jones who mentioned that he was interested in forming a postcard collectors' club. The next month 21 people showed up at a meeting, and the club officially launched. Soon monthly meetings with programs as well as a "show and tell" dimension and a monthly newsletter followed. It grew from a local meeting to the national and international annual Wichita Postcard Show.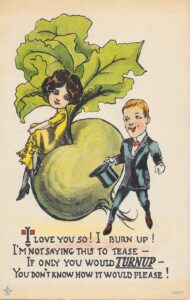 Walking into the All Saint's Catholic Church and School gym, you may be overwhelmed by the many tables piled high with boxes of postcards. A premier postcard showcase, it's an ideal place to get acquainted with one of America's older hobbies. And volunteer club members will make it easy for you. Fly into Wichita, and a club member will meet you at the airport and transport you to the motel and then back again to the airport whenever your flight leaves. Or, take a bus or train, and they will pick you up and return you to a depot when it's time. Hal Ottaway, club show chairman, declares, "You come to the Wichita Show and you will not be alone. We will help you have a good time."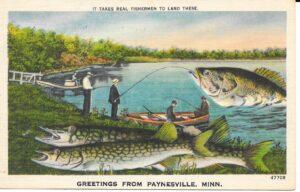 The local Knights of Columbus cooks the annual lasagna dinner and handles the food window. The club employs students from the school to help dealers unload and then reload cartons to the dealers' cars and vans. The show committee believes in education and has always encouraged postcard displays. Collectors highlight some of their collections so that folks learn how interesting and diverse postcards are.
Unlike the few racks of postcards we might see today in a souvenir shop, at the turn-of-the-century, thousands upon thousands of postcards were produced. The postcard itself was a European import. Dr. Emanuel Herrman, an Austrian economics professor, came up with the idea of the pre-stamped government-issue postal card in 1869. People liked this inexpensive and convenient method of communication. By 1873, the United States introduced the postal card, and entrepreneurs imprinted them with greetings and advertisements. Later, the privately printed picture postcard came into general use when thousands were sold as souvenirs at Chicago's 1893 World's Columbian Exposition. In 1898, a new regulation, the Private Mailing Card Act, granted the same mailing privileges for privately printed cards as the government issued ones, and the heydey of the postcard began. Penny postage made it possible for the ordinary person to afford postcards and contributed greatly to their popularity. But even more important were developments in the postal system. Prior to the inception of the Rural Free Delivery system in 1898, home mail delivery had only been available in towns of ten thousand or more inhabitants. For rural residents, receipt of mail was sporadic at best. Although the R.F.D. system took a few years to be completely absorbed into America's fledgling communications system, by 1906 delivery routes had been firmly established. Home mail delivery was now on a daily basis.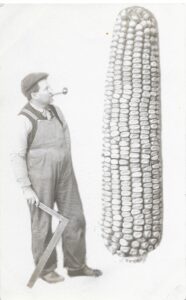 Luckily for us many people collected and tucked postcards away in drawers or scrapbooks for decades. And eventually, these cards found their way to postcard shows. Hundreds of thousands of postcards—from theatre stars to holiday greetings, to western motifs, to advertising quack medical cures, to views of main streets and small towns and architecture, to homegrown festivals and larger-than-life fruits and vegetables, to roadside America, to suffrage, to sports, to cultures and ethnicities, to the circus, to presidents, to royalty, to whatever you can think of—all stacked in boxes or categorized in albums, demonstrate the endless variety of humankind's creation.
Just pick your theme. Anything goes. Looking for frogs playing the fiddle, teddy bears dancing or ants wiggling up trees? Easter and Christmas greetings are common. Halloween is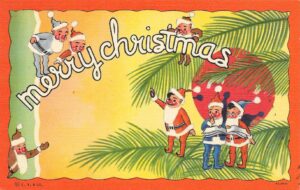 hot as are novelty cards, real photos and nostalgic Route 66 views. With a little patience and determination, you can find it all. Dealers will help. Many of them, collectors at heart, deal to support lusty postcard habits. They love to dispense advice and information to the novice collector and even comforting TLC when that wonderful card gets away.
Familiarity with the vocabulary of postcard collecting will help you feel at home. Pioneer postcards were published prior to 1898. The Golden Age was from 1905 to 1915. Linens date from 1920 to 1960 when innovative printing processes produced a colorful linen-like finish. Photographers produced real photo postcards in the dark room; whereas printed cards in color or black and white emerged from the printing press. Chromes, that began around 1939, are the shiny-surface postcards available today.
Rick Geary, award-winning cartoon artist, illustrator, author of graphic novels, was brought up in Wichita. He has appeared at the show since 1979 when he began creating the first show postcard, taking Geary on another path of his artistic career. Since 1984, each year he produces a special Rick Geary postcard for National Postcard Week, and he also creates a special "member" postcard. So the club produces three Geary postcards each year that all club members receive, a good reason to become a member.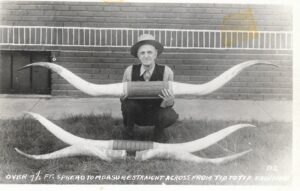 In addition, every Sunday morning before the show opens there is a lecture on the show's theme. Although the October 2020 Postcard Show has been postponed, the 43rd Postcard Show will take place in 2021. The theme is "Real Photo Postcard & Messages: Capturing History," and the speaker is Ken Wilson of Dripping Springs, Texas, author of Snapshots and Short Notes: Images and Messages of Early Twentieth-Century Photo Postcards published by the University of North Texas Press. The premise is that postcards are historical documents, and Wilson will discuss the combination of image and text as a first-hand account of American life.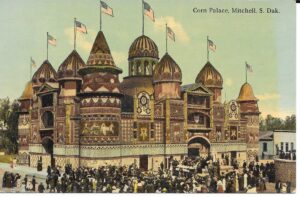 Condition is graded from mint to fair. Price range is 25¢ on up and up. Don't be afraid to bargain. Buy a card or two. It could be the start of a lifelong collection, or just for fun. After all, where else can you buy a little piece of artful American history for less than a buck?
For more information, write Wichita Postcard Club, P.O. Box 780282, Wichita, KS 67278-0282
Cynthia Elyce Rubin, Ph.D. is a visual culture specialist, travel writer and author of articles and books on decorative arts, folk art and postcard history.