As spring turned to summer in June of 2023, it was a great day on 107th Street in Corona, Queens. Dignitaries and residents alike turned their eyes to the newly opened Louis Armstrong Center. Louis Armstrong, the heralded 20th century jazz trumpeter, composer and vocalist, came to call this quiet street in New York City, his home in 1943 and now it is home as well to an extraordinary archive, collection, and center of music.
After decades of planning and perseverance, the Armstrong home is getting a new neighbor. The Louis Armstrong Center, as envisioned by the Louis Armstrong Educational Foundation, has opened directly across 107th Street. The twenty-six million dollar, fourteen thousand square foot facility will now house an archival horn of plenty: 1,600 recordings, 650 home recorded reel-to-reel tapes in hand decorated boxes, 5,000 photographs, 270 sets of band parts, 12 linear feet of papers, letters, manuscripts, five trumpets, 14 mouthpieces, and over 120 awards and plaques.
Armstrong, not unlike many of his jazz colleagues, spent his entire musical career performing one-night stands in clubs across the country. He played in places where Black musicians were relegated to "colored only" restrooms and was served meals in the kitchen, if meals were provided at all. "Satchmo" (satchel mouth) or "Pops," the two monikers he'd carry throughout his life, was on the road well over three hundred nights a year.
After a year of marriage, Louis's fourth wife, Lucille, a former dancer at Manhattan's celebrated Cotton Club, decided it was time they secured a permanent residence. Without telling her husband, she took out a mortgage on a small wood frame house in Corona. Eight months later, when Louis returned from an out-of-town engagement, Lucille told her husband to have his cab driver deliver him to 34-56 107th Street, Queens. Surprised and taken with his new home, he invited the cabbie in for breakfast. Lucille was happy too. Happy that Louis would now relieve her of the mortgage payments.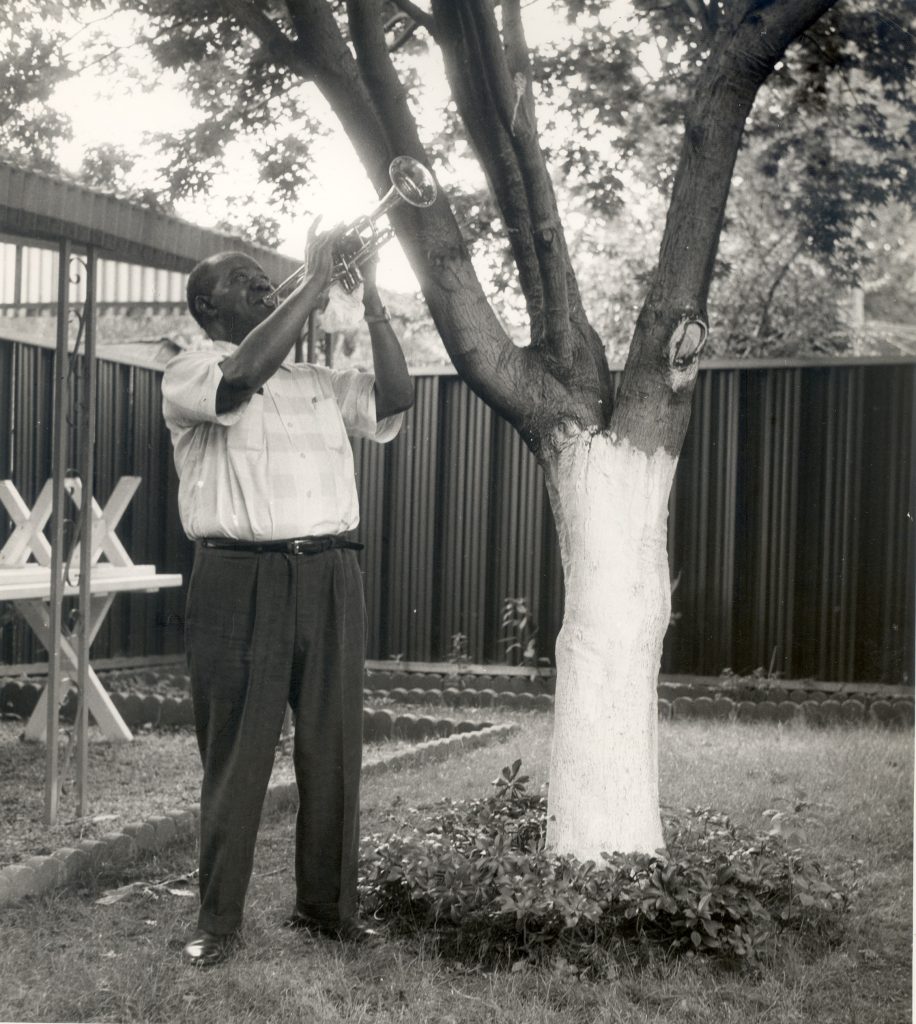 Soon "Pops" became a presence on his block, playing the trumpet on his stoop, befriending neighbors and their children, and hosting barbecues. For a young boy who spent over a year in the Colored Waifs Home for Boys (reform school in New Orleans) for shooting blanks from his stepfather's gun, his new address was more than a house, 34-56 107th Street instantly became his beloved home.
In the twenty-eight years he lived in Corona, Louis Armstrong and his wife Lucille amassed a sixty thousand piece archive, which according to the museum's administrators is the largest collection of memorabilia held by any jazz artist. Even after his death, Lucille continued to collect and curate legacy items.
Lucille died in 1983, twelve years after Louis, at which point, the Armstrongs' voluminous archive was surrendered to City University of New York at Queens College. The college became a repository for the Armstrong archives and a place for the general public to view them. It gave license to the college to preserve the Armstrong home and establish the Louis Armstrong Educational Foundation.
Designating a college to oversee a national landmark is a bit out of the ordinary, but the institution carried out its mission. The not-for-profit Louis Armstrong Educational Foundation has been fulfilling the dreams of Louis and Lucille Armstrong for over 37 years. Regina Bain is the Executive Director of the Louis Armstrong House and Museum. "Both of their visions were that the archives and the stories that they told stayed, stuck around, were listened to. Louis wanted that and Lucille made sure that it happened. She dedicated 11 years of her life making sure that it happened. It was a little bit luck and a little bit planning on the part of Louis and Lucille."
The home on 107th Street puts the jazz musician's storied life into perspective. It remains an homage to suburban midcentury design to this day. The technicolor kitchen, with its contour turquoise lacquered cabinets, would be the envy of any homemaker. Adjacent to the kitchen is an opulent, gold plated bathroom with wall to wall mirrors; historians are of the mind that the ornate room was an overcompensation for the indignity the musician suffered in segregated restrooms throughout most of his career.
Here, in a study on the second floor, "Pops" would categorize his expansive collection of reel-to-reel recordings, annotate the spines on the boxes, and add additional trumpet tracks to his earliest recordings. He surrounded himself with sound; listened to his endless collection of music, his own and others, played back through a pair of speakers recessed into the study's ceiling. Oh, and he found time to write not one, but two autobiographies: Louis Armstrong, In His Own Words and Satchmo: My Life In New Orleans. Louis and Lucille liked to entertain, and their large backyard allowed them to do just that.
The Louis Armstrong House Museum maintains the property, and extends an invitation to community based groups to use it. On a summer afternoon, you could find a local Ecuadorian organization, using the tree-canopied property to sponsor a neighborhood aerobic activity.
Armstrong was not the first, nor was he the last jazz musician to call Queens home. A cavalcade of stars, many shunning the cramped quarters and excessive rents of Manhattan, found affordable homes and welcoming backyards. Fellow trumpeter, Dizzy Gillespie, lived around the corner. Fats Waller, Billie Holiday, Count Basie, Jimmy Heath and Ella Fitzgerald, were just a short subway ride away. Even James Brown, the Godfather of Soul, hung his hat in the borough; and why not, after all, he had a horn section.
While the collection is too extensive to display in its entirety, curators will be busy putting themed exhibits together, documenting the life of one of the greatest trumpeters of the 20th century. The center is user-friendly, featuring a number of display cases, interactive exhibits, and didactic panels that trace Armstrong's Dickensian early life in New Orleans to an astounding musical career that left him scaling the heights. However, he was never so grounded as the time he spent in his Queens neighborhood, entertaining neighbors and dazzling their children with his musical dexterity.
The center also features a 75 seat theatre for intimate performances and select screenings. It is conceivable that it will also be shared by this year's artists in residence, Antonio Brown and his dance company, along with author, musician, and playwright, Amyra Leon, and the five-time Grammy winner, vocalist, and musical virtuoso, Esperanza Spalding.
The center's mission is also to educate. Bria Skonberg, acclaimed trumpeter and vocalist reflected, "I've been working with students in different capacities for over ten years. There's a new initiative where the house itself owns at least 10 trumpets. We have a series this summer where any kids 8 to 12 years old can come here and learn to play the trumpet from a professional in the city. Yes, you want to get your hands on the instrument, you want to hear it live played by a professional."
Trumpeter Jon Faddis was on hand for the Louis Armstrong Center's opening. The musician and educator, started his career in Lionel Hampton's big band, and was subsequently mentored by the apple-cheeked horn player, Dizzy Gillespie. Faddis talked about Armstrong's often overlooked activism, recalling the time Armstrong cancelled a State Department sponsored tour of Russia to openly denounce the Eisenhower administration's handling of a court ordered decision to desegregate a high school in Little Rock, Arkansas.
"They don't know that Louis Armstrong told the president that he could go to hell if he didn't support black kids going to school in Central High School in Little Rock, Arkansas in 1957. They don't know about the things that he went through, and some of the things he went through, long before Rosa Parks, where he was the only black person allowed to be in a hotel to play in a certain hall."
Some eighty years after Louis Armstrong and other Black jazz musicians squeezed into homes in predominately Irish and Italian neighborhoods in Queens, Satchmo left behind a landscape more diverse than any other in the world. Demographers conservatively estimate that over one hundred and fifty languages can be heard in the city's largest borough. And that's to say nothing of the cuisine. While the Armstrong Home and Museum and Louis Armstrong Center are tourist attractions, in many ways, your day in Corona, Queens has just begun.
GETTING THERE: Seasoned travelers like to say, "getting there is half the fun." And this trip is no exception. If you're setting out from Manhattan, make your way to Grand Central Terminal, New York's grand cathedral of commute. From there, take the #7 elevated subway line, which locals have dubbed the "International Express." You'll travel almost to the end of the line before getting off at the 103rd Street/Corona Plaza station. From there it's a ten minute walk to the Armstrong complex.
GRAB N' GO: On the way back to the #7 line, if your plans take you there on the weekend, you can stroll through numerous food stalls, food trucks, and kiosks that make up a sprawling food court of Central and South American cuisine.
OTHER ATTRACTIONS: Get back on the #7 and travel back in time. Take the subway one stop to 111th Street to Flushing Meadows-Corona Park. At one of New York City's largest parks, you can see remnants of both the 1939 and 1964 World's Fairs. If you're a sports fan, August and September are prime months to see the NY Mets battle for a playoff spot at Citi Field.
Tennis, anyone? Take in some of the fan week activities leading up to the US Open Tennis Championships at the USTA Billie Jean King National Tennis Center. If you're in town for the main event, you might even see a match played at, where else: the 14,000 seat Louis Armstrong Stadium.
For information about tours and tickets: louisarmstronghouse.org.
Written by Tom Farkas. Featured Photo at the top of the article by Andrew Kelly with Bowery Image Group.