Preservation of a musical culture is the act of continuing the practice and teachings of the tradition so that it can be perpetuated by future generations. To do this successfully, it requires the exploration and explanation of the heritage and history of a people.
This is the root of what the Syrian Music Preservation Initiative (SMPI) does every day. The New York City-based nonprofit pursues the perpetuation of the sounds, words and actions which make up the Syrian musical tradition, bringing it to new worlds and venues.
Preservation is important across every musical culture, but there is an acute need with Syrian music due to the oral nature of the tradition and the disruption of the society due to civil war and natural disasters such as the recent earthquake.
More than 5,700 miles from his homeland, from their home in Queens, Samer Ali and Marissa Arciola Ali are striving to preserve those traditions for future generations to understand and embrace.
Samer and Marissa first met in 2015 while playing with an Armenian ensemble in the Lower East Side, but it wasn't until years later that the two reconnected to strengthen their work on the SMPI.
Samer Ali started the chamber ensemble Takht al-Nagham in 2017 when, after playing in the NYC Arab music scene for a number of years, he realized there was little to no Syrian music being performed. The group was formed with the desire to hear and perform the music of his old country. In 2018, he contemplated the uncertain future of Syria. Would the country he left survive? Would it be broken into pieces? He saw the daily struggle of those who stayed behind and heard news daily of more and more people immigrating to other countries. He realized that this kind of displacement and struggle would have a destabilizing effect on culture so he decided that he needed to take more action to preserve this music and founded the nonprofit SMPI.
SMPI is dedicated to preserving and invigorating the diverse ethnic and regional music traditions of Syria (including but not limited to Arabic, Kurdish, Armenian and Syriac) through performance, preservation, innovation, research, and education.
Shortly before the pandemic, Samer and Marissa began talking about a Takht al-Nagham tour. But the pandemic shifted these plans. Instead, the two launched more conversations about the organization and the music between Samer and Marissa, ultimately leading to Marissa becoming President of the Board in 2021.
SMPI promotes the musical heritage of this region by presenting older works that are less known to the greater public as well as supporting contemporary exploration of the traditional forms by commissioning composers from Syria and the diaspora. Their goal is to preserve the Syrian compositional practices by researching their history and context, translating lyrics, providing transcriptions, documenting performances, and by making digital resources accessible to artists, scholars, and communities worldwide through music performances, classes, workshops, and seminars.
Marissa Arciola Ali is an Eastman School of Music-graduated bassist, strategist and leader with a unique combination of artistic and business experience. She has worked with a number of nonprofit organizations while playing with groups ranging from classical, rock, and Middle Eastern music.
"We perform this music because we love it," Arciola Ali says, "because it is important, and because music itself is the language which breeds understanding and community. But performance alone will not preserve this culture. If you teach a song to a million people, the music can carry over continents, but in order to preserve a heritage, we must pass on the history, the context in which works were written, and the progression of ideas."
Samer Ali, a native of Syria, is a physician, violinist, oudist, composer, and founder and artistic director of SMPI. He has led Takht al-Nagham, SMPI's Arab chamber music ensemble, in New York at Roulette Intermedium; in Florida at Miami Beach Bandshell; and in Washington, DC at the Kennedy Center.
"Takht al-Nagham" features a traditional Takht (Arab chamber music group). "Nagham" is the Arabic word for melody; it is commonly used as a synonym for the Arab Maqam system. Takht al-Nagham is committed to performing the classical and folk Syrian repertoire with traditional acoustic instruments. In order to familiarize audiences in the U.S. with the original structure of the musical traditions, the Takht presents its sets (called Waslah) in the manner that they were originally performed. The Takht includes skilled Syrian and non-Syrian musicians who perform the music with the tradition of improvisations (or taqasim), and are deeply immersed in the Syrian musical tradition.
Audiences will be able to see – and hear – the fruits of their labor on Friday, May 19, 2023, when SMPI – to mark its fifth anniversary – presents Love and Loss: Classical Music of Syria at Weill Recital Hall at Carnegie Hall.
"The theme of love and loss is common throughout the classical Syrian repertoire and remains relevant to their reality today," Samer Ali says. "We are dedicated to preserving and invigorating the diverse regional music traditions of Syria, and this performance will promote the musical heritage through both older, lesser-known works and contemporary pieces. In this way, we celebrate the past, present and future of Syrian music."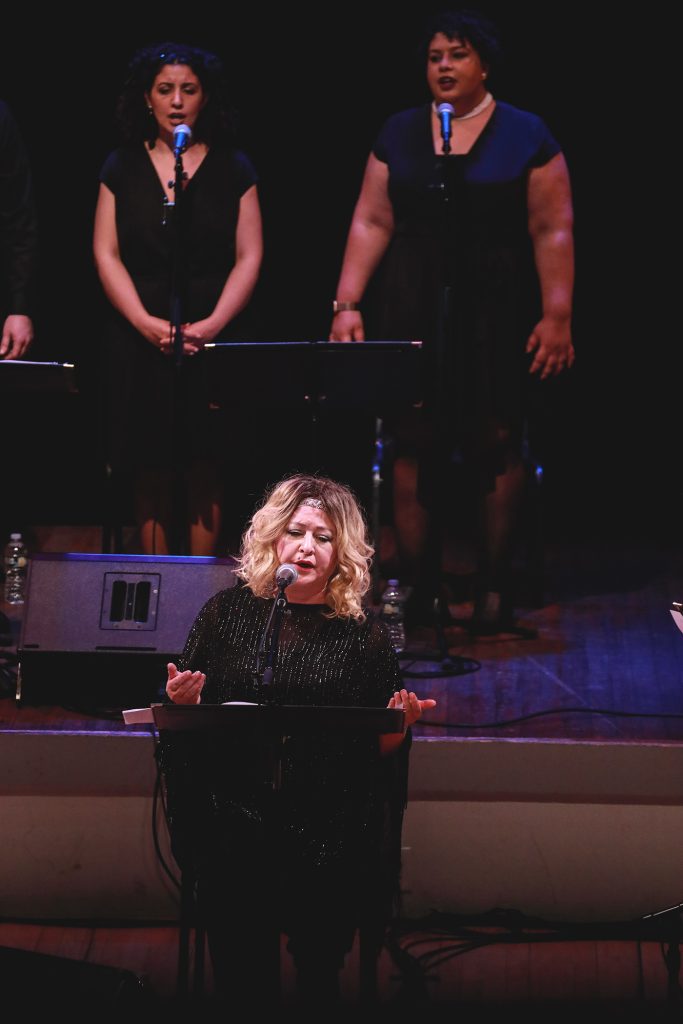 The celebration begins at 8:00 PM and features SMPI's Takht al-Nagham, led by Artistic Director Samer Ali. The group includes instruments traditional to the takht including the oud (Arab lute), qanun (Arab zither), nay (reed flute), and riq (tambourine).
The one-night-only event will feature works by Mahmood Aijan, Wanees Wartanian, Majdi al-'Aqili, Ramez Khaskiyya, Khalil Haj Hussein, and Samer Ali, as well as traditional works by other Syrian composers. Joining Samer Ali (violin) on stage will be Marissa Arciola Ali (bass), Brian Prunka (oud), John Murchison (qanun), Nezih Antakli (riq), Gideon Forbes (nay), Lubana Al Quntar (vocals), and in the choir, Zahra AlZubaidi, Erik Jönsson, Marwa Morgan, and Stefan Paolini.
You can view a previous performance here: https://www.youtube.com/watch?v=ZLq3nzZpvgQ&t=1s
Tickets can be purchased here.
Featured Photo: SMPIs Takht al Nagham Performing at Roulette in 2022. Credit: Shutter Hound Photography